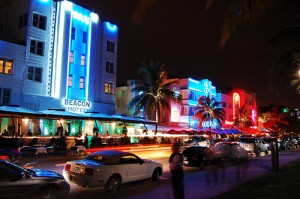 The culture in Florida is unlike anywhere else in the world, even in the United States. Florida has a culture that attracts people from around the nation and even the world to soak up its charms. Depending on what region of the state you are in, the culture is different, but all Florida residents know they have something special in their geographical location.
When outsiders think of Florida culture, usually Jimmy Buffet is the first image to pop into people's heads. As far as beach and island living go, this representation is not far from the truth. Florida's beaches and islands are known for attracting a very laid back culture that does not shy away from its tropical alcoholic beverages. Musicians, writers and a variety of other people with a story to tell are attracted to these environments. They come for the inspiration of the natural beauty and the pleasure of the island and beach lifestyle, or often they come to escape the past. Many a classic "beach bum" can be found in these parts of Florida.
The metropolitan cities, on the other hand – Miami, Orlando and South Beach, to name a few – are an entirely different scene. These areas put out a party vibe that a different variety of person comes from all around the nation and world seeking. These parts of Florida are known for their opulent wealth and playground atmosphere. Every night, stunningly attractive and wealthy people flock to the clubs and bars of these metropolitan areas to live it up in style. Still close to the coast in many cases, yacht and beach house parties are very common as well.
And lastly, a less talked about culture in Florida is that found in the bayous and national forests. Florida has its types that like to rough it, just like every other state, and these environments are home to a more blue collar demographic that is as much a part of the state's history as any other. This demographic is not as glamorous, but the states agricultural success largely belongs to them. Florida is responsible for one of the United States primary fruit crops.